Portrait : 5 questions for Maria Padula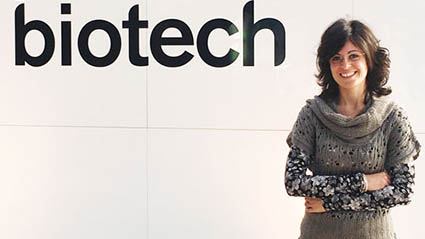 Maria Padula studied biology at the University of Salento Lecce in Italy before obtaining a master's degree in neurobiology at the University of Pisa. Maria joined Stephan Eliez's group in 2013 for her PhD thesis in Neurosciences, which she obtained with great distinction in September 2017.

As a biologist, why did you choose to work on a clinical topic?
Before starting my thesis, I worked with murine models but wanted to move closer to clinical work and people. The group run by Stephan Eliez was a real opportunity for doing just that, and it was really lucky for a neuroscientist to be able to access clinical work.
What did you gain from interacting with patients?
I felt that I could contribute to helping these people. Contact with patients makes things more concrete compared to basic research.
What role has fundamental neuroscience played in setting up clinical trials?
I had lots of interactions with neuroscientists during my PhD. We collaborated a great deal with the group led by Francesco Papaleo, in Italy and with Pico Caroni's lab. What's more, a transla-tional study is in progress in collaboration with Pico's lab where we use the same behavioral paradigms in humans as in mice, involving tasks on memory and mental flexibility. In addition, the results obtained in the murine model contributed to the development of an ongoing clinical trial in patients with 22q11.2 deletion syndrome.
What are your future career plans?
After four years of clinical research, I would like to switch to the fundamental neurosciences so that I can maintain a profile that is highly translational and become an expert in both aspects. Therefore, I will soon start a postdoc in Pico Caroni's lab, while continuing the collaboration with Stephan Eliez and the work on brain imaging. In the long term, I would love to carry on with mouse-patient models. In my opinion, the ideal situation for this type of research would be to have a single person who masters the clinical and fundamental sides rather than having a specialist in each setting. I'm trying to ensure that I have the profile to be the person wearing these two hats but, since I'm neither a psychologist nor a psychiatrist, it will not be easy to manage the clinical aspects. It would be ideal if neuroscientists could have access to clinical work, with the necessary training. Today, in my opinion, the only possibility is to obtain an additional degree in medicine or psychology.
What do you think of Synapsy?
The "Synapsy" approach is highly pertinent because it is clearly the future of clinical work and neuroscience. In my opinion, you can't understand mental diseases without understanding the basic mechanisms. As the collaboration that we developed within Synapsy shows, this kind of research is really promising in promoting the development of treatments. The two disciplines are becoming increasingly linked, so much so that you can't do one without the other. At the same time, a mouse will never be a human being, therefore it remains challenging to interpret the translational findings!
---
Interview by Yann Bernardinelli
---