ANNUAL MEETINGS
2020 – Postponed to October 14/15th 2021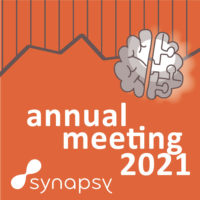 Our annual retreat 2020 has been postponed to 2021 and is coming up. It will take place in person on October 14/15th 2021
KEY POINTS:
– the meeting will take place in Les Diablerets, at the Eurotel Victoria and NOT in Villars
– only people with a valid COVID pass will be allowed to attend (please bring with you for verification at badge pick-up).
DATE : 
Thursday and Friday October 14/15th 2021
LOCATION (Les Diablerets):
Eurotel Victoria
Ch. du Vernex 3
Case postale 112
CH-1865 Les Diablerets
Travel arrangements to and from Les Diablerets must be made individually.
Hotel accommodation on Thursday night (October 14) at the Eurotel Victoria is covered by the NCCR Synapsy. Additional costs for your travel expenses must be covered by other sources. 
Extra costs charged to the room (minibar, phone calls etc.) must be covered individually.
As there is only a limited number of single rooms available we kindly ask doctoral students and postdocs to register for a double room. – please mention with whom you would like to share the room directly in the registration form.
PRELIMINARY PROGRAM :
The meeting will start Thursday 14th October at 10h30 for PIs and in the late afternoon for the rest of the community (NEW). The meeting will end on Friday 15th of October
THURSDAY, OCTOBER 14TH

10:00 – 10:30 Arrival and Coffee
10:30 – 11:00 NOVEL IMPLEMENTED INSTRUMENTS
– DMP and data sharing (P. Hagmann)
– Biobank & Human Tissue (D. Jabaudon)
– Multimodal data integration tool (A. Volterra & L. Telley)
11:00 – 12:30 PI Workshop (PIs only)
12:30 – 14:00 Lunch
14:00 – 17:00 PI Workshop (PIs only)
17:00 – 17:30 Coffee Break, Arrival of junior scientists
17:30 – 19:30 POSTER SESSION
19:30 – 21:00 Dinner
21:00 – 22:00 The ALBA Network – Equality session (C. Sandi)
FRIDAY, OCTOBER 15TH
09:00 – 09:30 WP#1 "22q11 deletion syndrome"
• 2 scientific highlights (10' each + 10 min discussion)
– Valentina Mancini – Oscillatory neural signatures of visual perception across developmental stages in individuals with 22q11DS
– Chieko Huber presentera – Increasing claustrum excitability during adulthood corrects medial prefrontal cortex dysfunction and cognitive deficits observed in an animal model of schizophrenia.
09:30– 10:00 WP#2 "Biomarkers of early psychosis"
• 2 scientific highlights (10' each + 10 min discussion)
– Daniella Dwir (CHUV) – A timely rescue of parvalbumin interneurons via MMP9/RAGE inhibition as a promising translational intervention for early psychosis patients.
– Inès Khadimallah (CHUV) – Mitochondrial, exosomal miR137-COX6A2 and gamma synchrony as biomarkers of parvalbumin interneurons, psychopathology and neurocognition in schizophrenia.
10:00 – 10:30 PHOTO SHOOTING and COFFEE BREAK
10:30 – 11:00 WP#3 "Autism spectrum disorders"
• 2 scientific highlights (10' each + 10 min discussion) – TBD
– Nada Kojovic (UNIGE) – Deep phenotyping to quantify social deficits in ASD.
– Denise Gastaldo (UNIL) – Striatal dysfunctions in Fragile X Syndrome.
11:00 – 11:30 WP#4 "Early life stress"
• 2 scientific highlights (10' each + 10 min discussion)
– Ralph Schneggenburger (EPFL) – Posterior insular cortex: A sensory- and interoceptive cortex that contributes to fear memory formation.
– Dominik Moser (CHUV) – Maternal behaviour in the face of PTSD and how it associates with later child psychopathology symptoms: a longitudinal study
11:30 – 12:00 WP#5 "Mood disorders"
• 2 scientific highlights (10' each + 10 min discussion)
– Camille Piguet (UNIGE) – Psychosocial stress affects differently brain circuits in emotion dysregulation disorders.
– Anthony Carrard (CHUV) – Role of adult hippocampal neurogenesis in the antidepressant actions of lactate
12:00 – 12:15 POSTER PRIZE
12:15 – 13:00 Meeting Summary & Closure (C. Bellone)
13:00 – 14:00 Lunch
14:00 –15:00 Steering Committee and Think Tank meeting (SC and TT members only)
15:00 END OF ANNUAL MEETING
REGISTRATION & POSTERS
Registration is already open. Please click on the following link in order to register and submit your poster: Registration form >
Registrations Deadline is Friday September 10th, 2021 – It has been extended to Monday September 13th, 2021
Poster format is A0 = 1189/841 mm, either portrait or landscape (registration includes blocks for you to fill in your abstract).
For this ninth edition, the translational approach put together by Synapsy stimulated a productive dialogue between the three disciplines and led to new insights on mental illness. Special sessions were organized :
– Genetics and how it could help research on mental illnesses was discussed by geneticists Emmanouil Dermitzakis (UNIGE) and Alexandre Reymond (UNIL). The genetic approach will be strengthened in all areas of research over the last four years of Synapsy, thanks to their support.
– A session on open data with the intervention of Dr. Cécile Lebrand (UNIL/CHUV), among others, in order to prepare members to the data management plan required by the SNSF.
– Finally, three new affiliated members, Nathalie Ginovart (UNIGE/HUG), Kerstin von Plessen (CHUV) and Antje Horsh (UNIL/CHUV) presented their respective research.    
—
The Villars retreat is also a unique opportunity for its almost 120 participants (cf. photo below) to network through the consortium .
Professeur Philippe Conus, Member of Synapsy Steering Committee, Head of the General Psychiatry Dept of the CHUV but also a talented saxophonist, helped stimulate exchanges between neuroscientists and psychiatrists by performing a Jazz concert with his band, very much to the delight of all participants of this 2019 edition.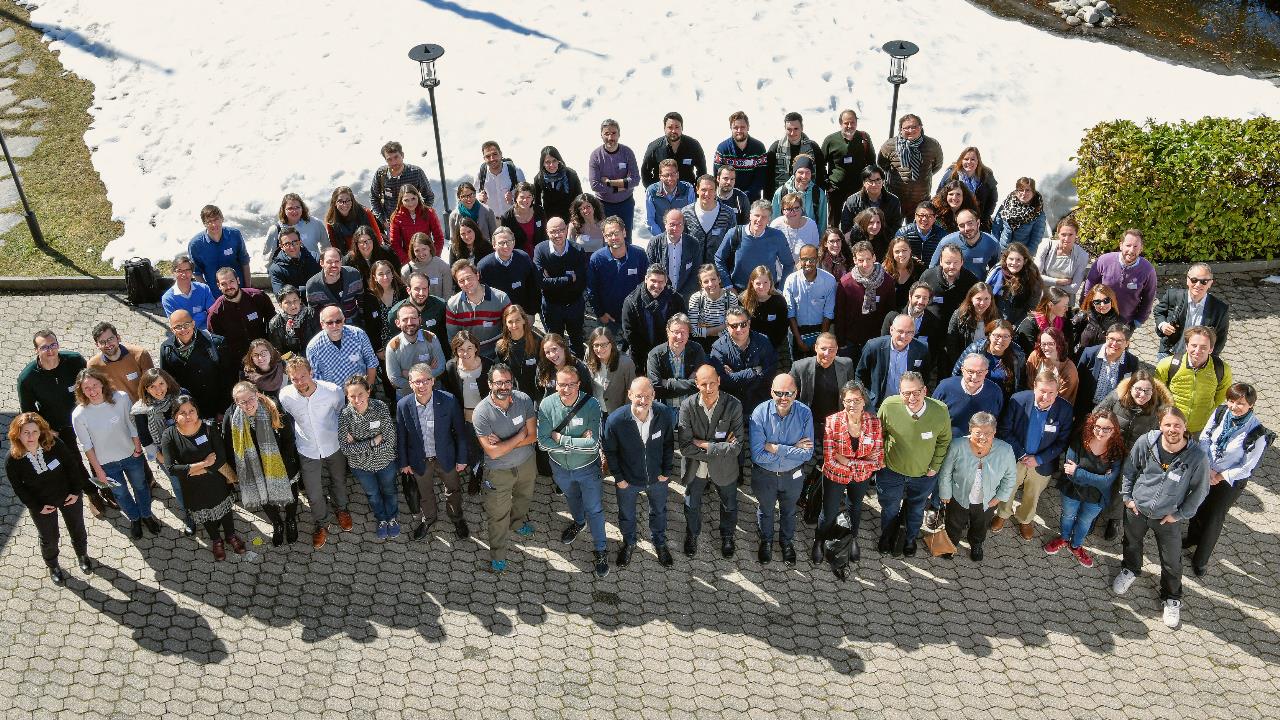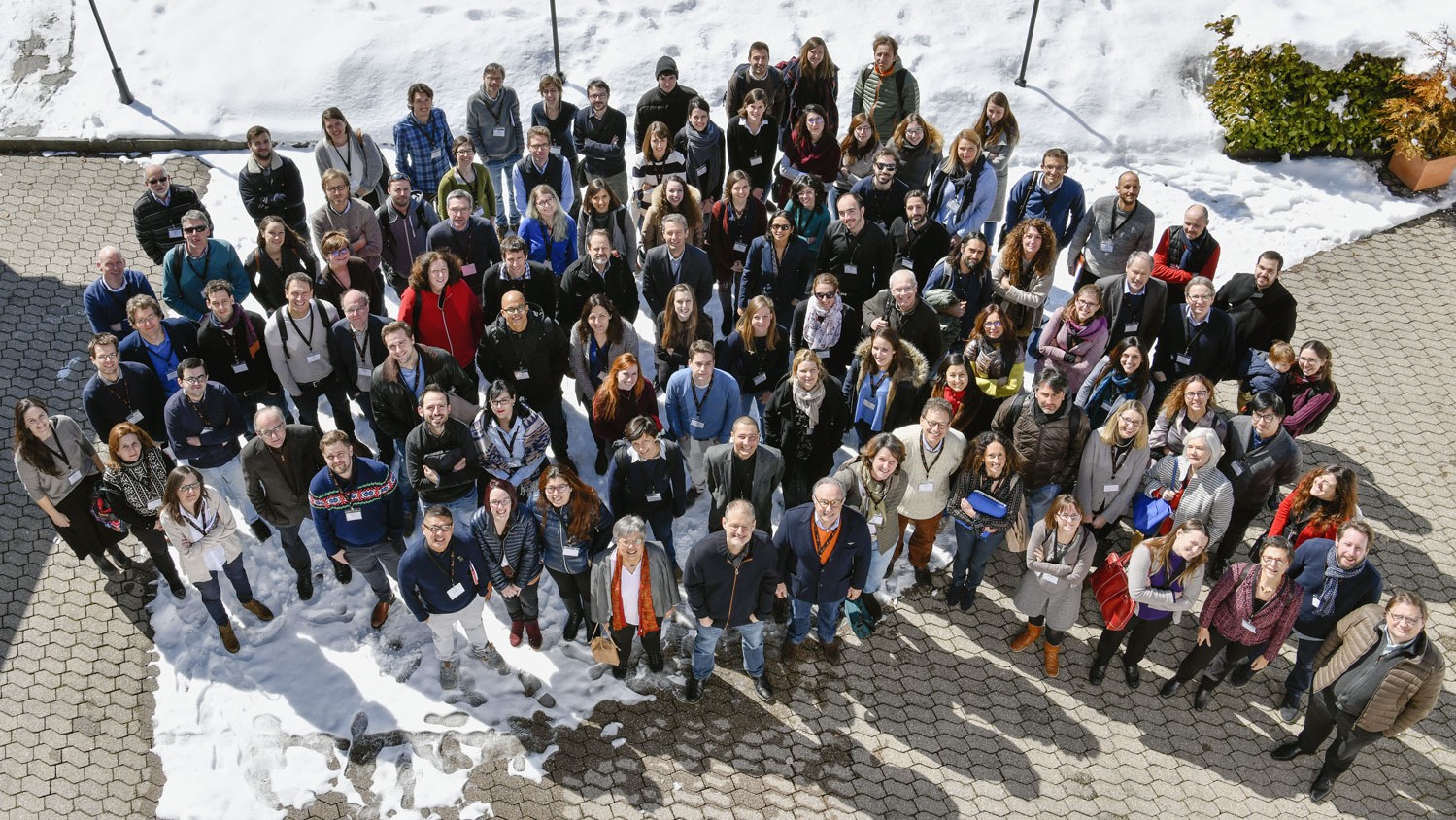 BEST POSTERS
Clinical :
Daniela Zöller with Poster #3 – Dynamics of large-scale functional brain networks in 22q11DS
Janir Ramos da Cruz with Poster #51 – Visual backward and the schizophrenia spectrum : EEG correlates.
Fundamental :
Tamara Zehnder with Poster #9 – Astrotcytic mitochondrial impairments in an animal model of schizophrenia
Aude Molinard-Chenu with Poster #10 – Assessing the transcriptional blueprint of cortical cell types in schizophrenia using single-cell transcriptomics.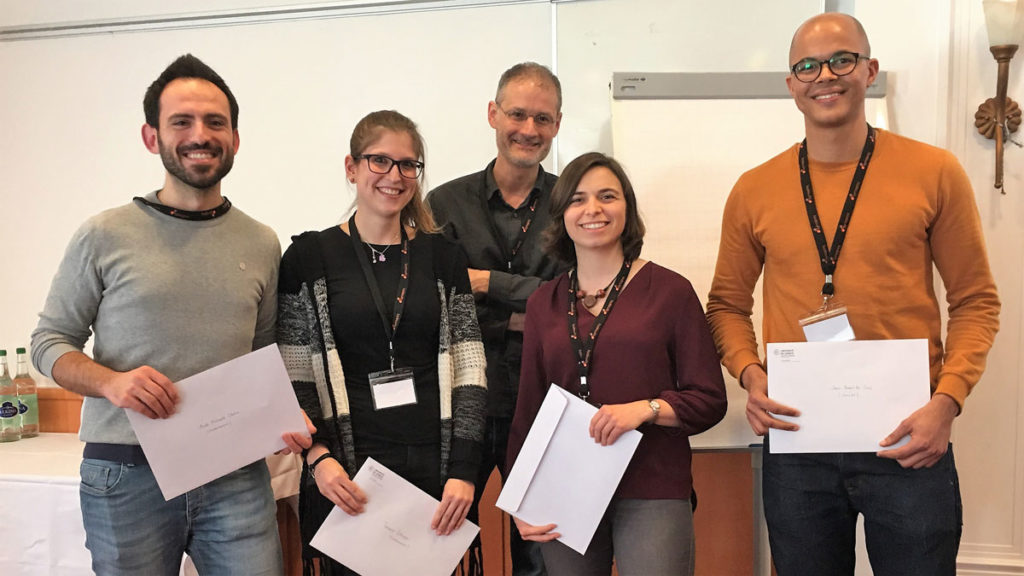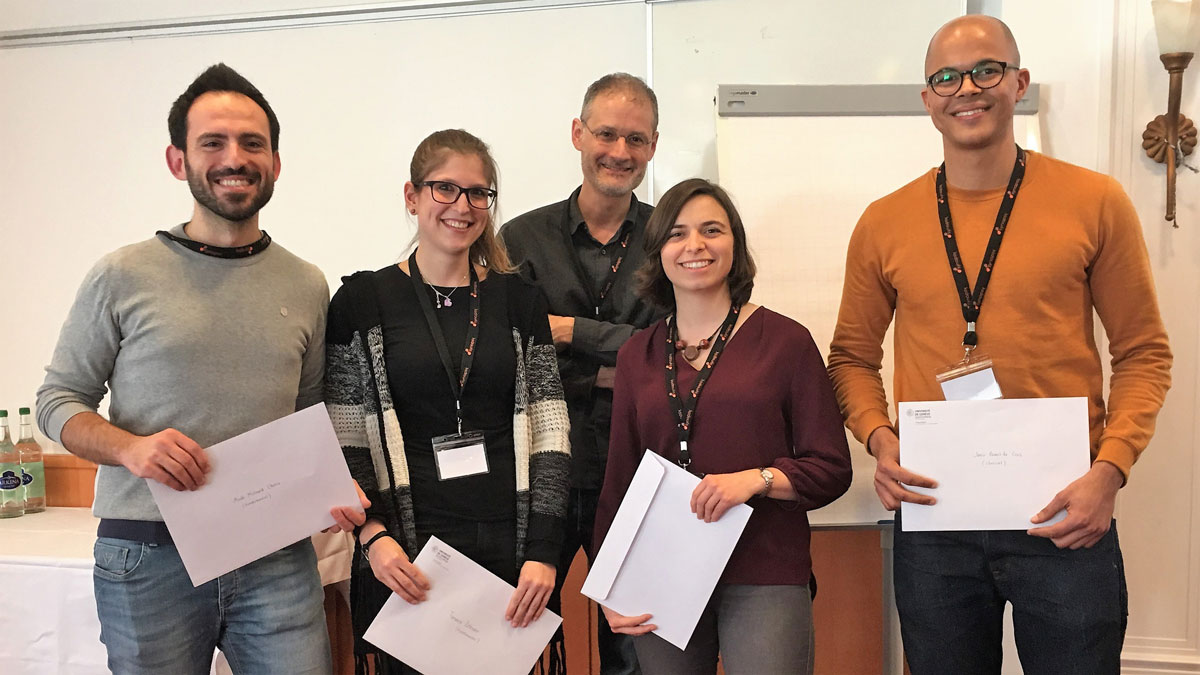 2017 - 31 March & 1 April
BEST POSTERS
Lucia-Manuela Cantonas
#13/ Auditory novelty detection in children and adolescents with 22q11.2 deletion syndrome: a high-density EEG study.
Fosco Bernasconi
#18/ Frontoparietal gamma-band dysconnection underlie robotically-induced mild psychosis and discriminates first-rank symptoms in first-episode psychosis patients.
Seble Zewdie (w/ Giuliana Fossati)
#46/ Investigating the role of the serotonin receptor 3A in mPFC microcircuit function during fear extinction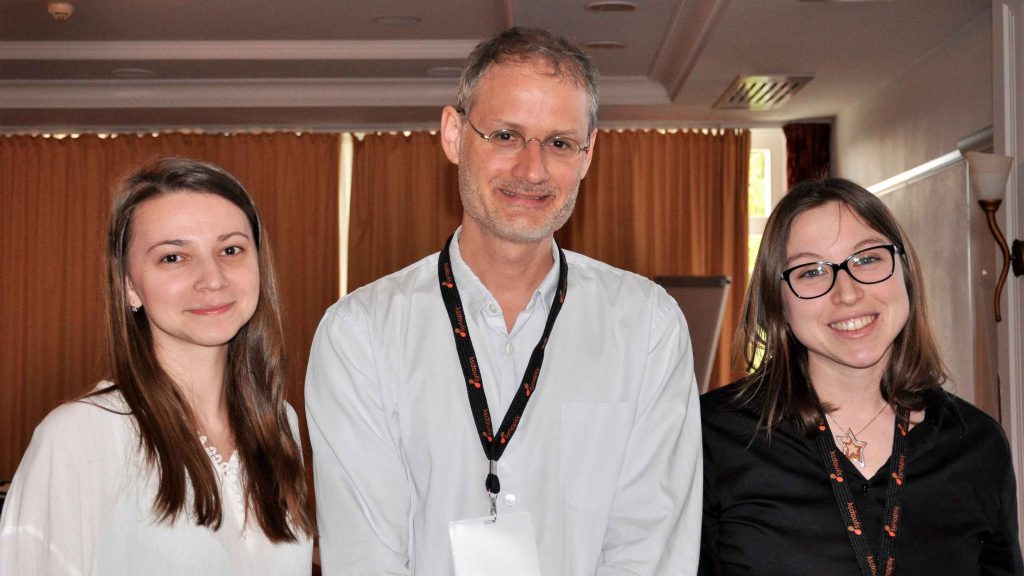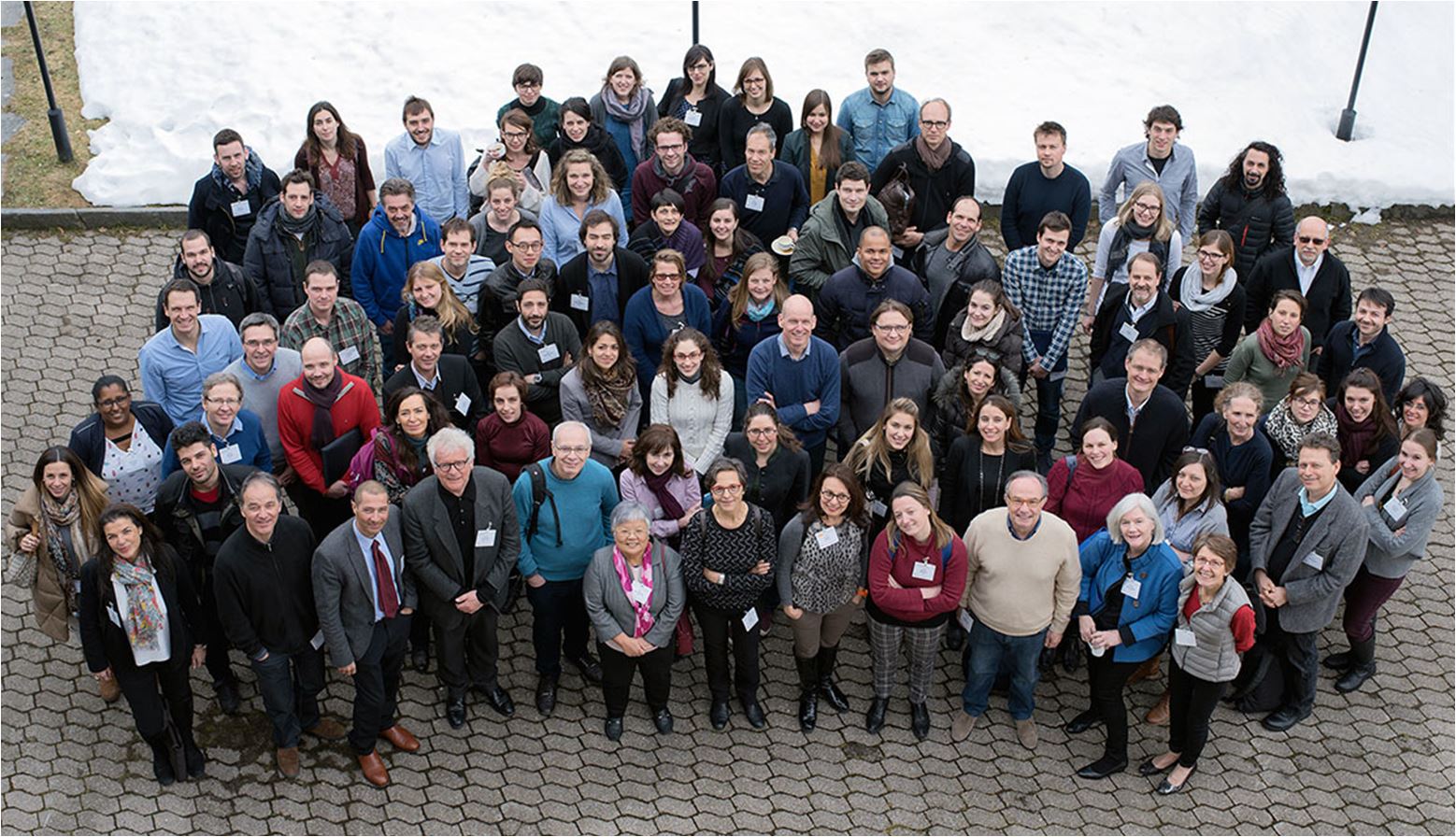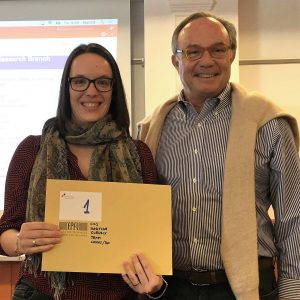 BEST POSTER
Martine Cleusix – poster #12/ Effects of N-Acetyl-Cysteine (NAC) as an add-on to standard treatment on cognitive functioning in early psychosis.

Virginie Pointet – poster #35/ Children's frontal EEG asymmetry and error-related components : a meta-analysis of internalizing and externalizing behaviours and maltreatment.
Corrado Sandini – poster #4/ Structural co-variance dysconnectivity is associated with the presence of prodromal psychotic symptoms in 22q11 deletion syndrome.
Anthony Carrard – poster #49/Peripheral administration of lactate produces antidepressant-like effect.
Elisa Scariati – poster #3/Mapping the multimodal connectome in 22q11.2 deletion syndrome.
Poster
Size iso A0 = 1189 mm x 841 mm, either portrait or landscape.
Dedicated spaces to enter your abstract are in the registration form.
Location
Eurotel Victoria Villars
Route des Layeux
CH 1884 Villars-sur-Ollon
Tel. +41 24 495 31 31
How to get there