Daniel Schechter receives the Kernberg Award for Pioneering Research in Childhood Mental Health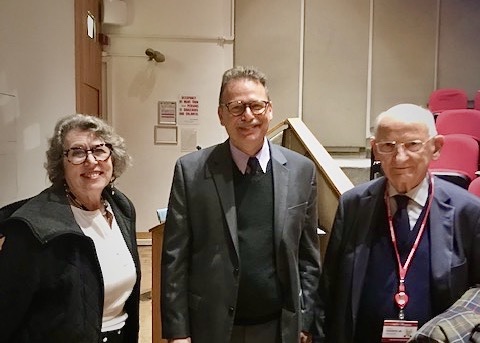 Professor Daniel Schechter received the Kernberg Award from the Weill College of Medicine of Cornell University (New York), for « his pioneering work on maternal trauma and childhood mental health ». The award was presented following his delivery of the Paulina Kernberg Memorial Grand Rounds at Cornell during which he presented his original research on maternal post-traumatic stress and its clinical implications and said, « I would like to thank Synapsy because without its support, receiving such an award would have been impossible. » Daniel Schechter is currently Medical Director of Perinatal and Early Child Research (SUPEA, CHUV) and Adjunct Associate Professor of Child and Adolescent Psychiatry (NYU Langone School of Medicine, USA), as well as Synapsy member.
The picture shows Daniel Schechter after receiving the award with the late Paulina Kernberg's spouse Otto Kernberg and Serena Wieder.