Invitation: 3rd Synapsy Conference on the Neurobiology of Mental Health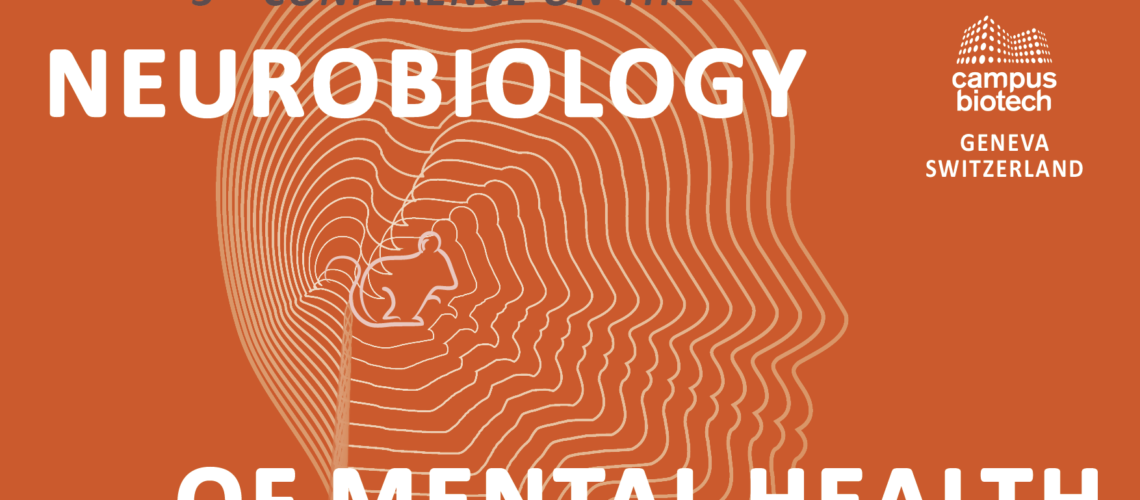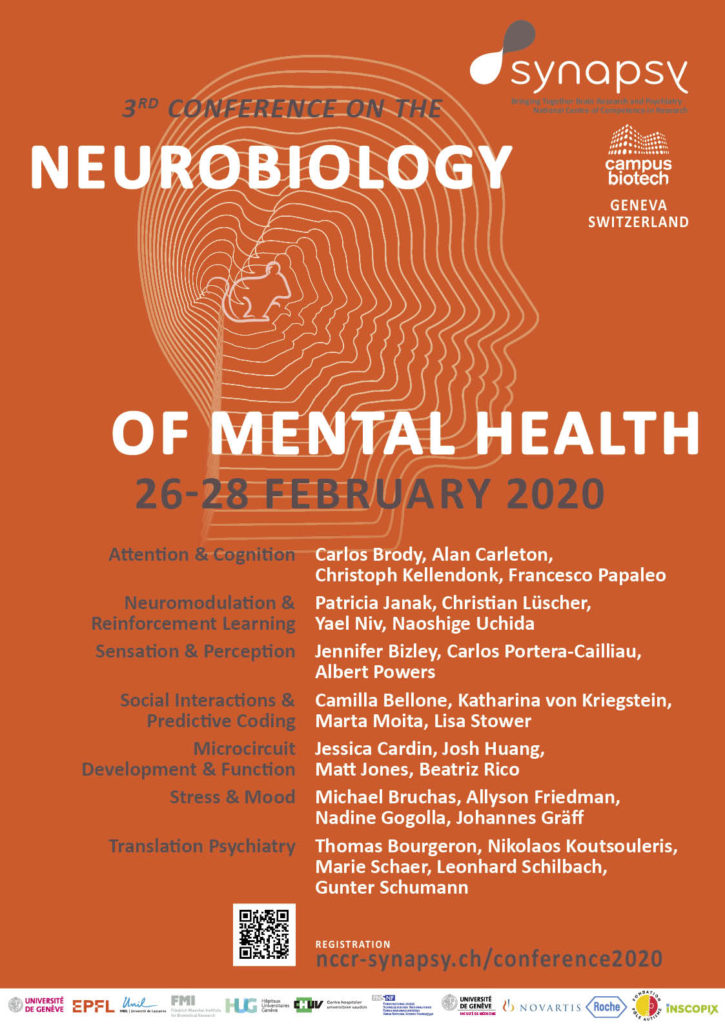 Dear All,
We strongly encourage you to attend and participate in the 3rd Conference on the Neurobiology of Mental Health, which will be held on February 26th-28th 2020 at Campus Biotech in Geneva. Following the success of the first two Conferences, the 3rd NCCR Synapsy Conference will again aim at being a major international event in the fields of neurobiology and psychiatry. Each session will include a lecture by a clinician working in the field of psychiatric disorders. There will be six main plenary sessions and one poster session. One day 3, there will be special joint sessions focused on translational psychiatry with short talks from Synapsy students and students from the International Max Planck Research School for Translational Psychiatry. We will also include a 'Grand-Public' evening session, led by a talk by Thomas Bourgeron (Institut Pasteur) entitled «Que nous apprend la recherche génétique sur l'autisme?», which will be held at Uni Dufour (University of Geneva) on Thursday evening.
The topics covered will include "attention and cognition", "neuromodulation and reinforcement learning", "sensation and perception", "social interaction and predictive coding", "microcircuit development and function", "stress and mood" as well as 2 sessions dedicated to "translational psychiatry". Each session will aim to link basic neuroscience to themes that are pertinent to psychiatry, and numerous prominent speakers (both clinicians and researchers) will discuss the latest developments in the field.
Here you will find the link to the conference website https://nccr-synapsy.ch/conference2020/ where information will be updated regularly in the coming weeks. Registration is now open, please click here to register. All participants are strongly encouraged to submit poster abstracts!
Please note that a number of measures have been foreseen to make the meeting affordable for students, as well as members of our community, with for example a no-entry fee policy for Lemanic and MPI students (masters and PhD) as well as a lowered fee (CHF 100) for all members of the NCCR Synapsy.
We are looking forward to seeing you all on this occasion.
Anouchka Junod – SYNAPSY Manager
On behalf of NCCR Director Alexandre Dayer, co-Directors Carmen Sandi and Philippe Conus and the organizing committee.
—
List of Sessions & Speakers
Attention and cognition
Carlos Brody (Princeton University)
Alan Carleton (UNIGE, Synapsy)
Christoph Kellendonk (Columbia University)
Francesco Papaleo (Istituto Italiano di Tecnologia)
Neuromodulation and reinforcement learning
Patricia Janak (Johns Hopkins University)
Christian Lüscher (UNIGE, Synapsy)
Yael Niv (Princeton University)
Naoshige Uchida (Harvard University)
Sensation & Perception
Jennifer Bizley (University College London)
Carlos Portera-Cailliau (University of California Los Angeles)
Albert Powers (Yale University)
Social interactions and predictive coding
Camilla Bellone (UNIGE, Synapsy)
Marta Moita (Champalinaud)
Lisa Stowers (Scripps)
Katharina von Kriegstein (Technische Universität Dresden)
Microcircuit development and function
Jessica Cardin (Yale University)
Matt Jones (University of Bristol)
Josh Huang (Cold Spring Harbor Laboratory)
Beatriz Rico (King's College London)
Stress and anxiety disorders
Michael Bruchas (Washington University)

Allyson Friedman

(

Hunter College

)
Johannes Graeff (EPFL, Synapsy)
Nadine Gogolla (Max Planck Institute)
Translational psychiatry
Thomas Bourgeron (Institut Pasteur)
Nikolaos Koutsouleris (Universität München)
Marie Schaer (UNIGE, Synapsy)
Leo Schilbach (Max Planck)
Gunther Schumann (King's College London)
Short talks Synapsy / IMPRS-TP students