GliaPharm moves to Campus Biotech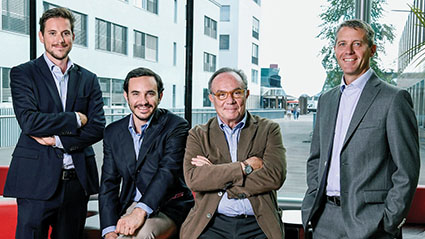 C. Finsterwald, A. Magistretti, P. Magistretti, S. Lengacher
GliaPharm, tackling Stephen Hawking's disease, moves to Campus Biotech, Geneva.
There are approximately 800 people working in the Campus Biotech building, say its promoteurs. However, some floors of the Lemanic pole dedicated to neuroscience remain deserted, two years after its inauguration. This is the case of the laboratories of the chemical part of the Geneva headquarters of Merck Serono, which have closed already in 2012; an empty alignment of about twenty tiled benches.
At the end of one of them, a small office bathed in light, wedged against the
canopy, with panoramic views of the Alps. Welcome to GliaPharm, third company settling in the ambitious center whose billionaire Ernesto Bertarelli and his family are co-owners at 50%. "We've visited a lot of science parks, for us it was important to have access to a animal house", said Sylvain Lengacher, CEO of this company born at EPFL a year ago.

An incurable pathology
An animal house, Merck had had left one as an inheritance. GliaPharm joins Sophia Genetics, number one genetic diagnostics in Europe. Among his neighbors also Addex, a former glory of biotechs working in particular on the Parkinson disease.
The associates of GliaPharm are related to Pierre Magistretti [Co-Director of Synapsy] who is among the co-founders of the company. In his EPFL laboratory, the latter dominates since twenty-five years researches on energy metabolism of the brain. Sylvain Lengacher, 50, has been working on this team for fifteen years, after having made his postdoc. The EPFL lab has uncovered several molecules that appear effective -especially in animal preclinical models- for the treatment of the amyotrophic lateral sclerosis, the illness bared by the famous physicist Stephen Hawking. Called Charcot disease, this incurable neurodegenerative condition -with unknown origins- condemns its victims to two to five years after its diagnosis. These suffer from progressive paralysis of the muscles, including respiratory muscles.
Targetting glial cells
"It's been eight years since we discussed possible therapeutic developments around our discoveries," says Ambroise Magistretti, 32, who is responsible for the finances of the first emanation of the lab created by his father. This biochemist spent seven years developing an investment product, investing the 12 million entrusted by his clients – banks, wealthy individuals – in the biotechnologies on the stock market.
"Our difference remains our focus not on motor neurons -which control the muscles- but on the treatment of glial cells, which surround and feed them", decrypts Charles Finsterwald, the scientist manager. Aged 33, this doctor from the Lemanic Neuroscience Doctoral School has worked since 2014 at EPFL on the creation of GliaPharm.
Mission: to find 15 million
The offices found, the hunt for funding begins. First 2 million to ensure preclinical testing, perhaps as early as next year. Then, between 15 and 20 million over five years, in order to test the treatment on humans. The goal remains to apply this research to other pathologies. Different possibilities are envisaged: European or American investments, partnerships with pharmaceutical companies. By way of comparison, Prexton Therapeutics, a company at Plan-les-Ouates born from the rubble of Merck Serono and fighting against the Parkinson's disease, just convinced investors to bet $ 29 million on it.
Employing its four founders and one collaborator, GliaPharm has so far benefited from CHF 300,000 from the Swiss Confederation (CTI funds) and a similar amount from  the Rita Puccini Foundation. "We will file the patent for our molecule to treat amyotrophic lateral sclerosis in the next few months", says Sylvain Lengacher. A patent that gives hope to other employees might populate the floors of Campus Biotech.
Author : Pierre Alexandre Sallier, Tribune de Genève (FR >)
Translation : Tania Secalin
---
Press coverage :
Tribune de Genève (PDF)
---