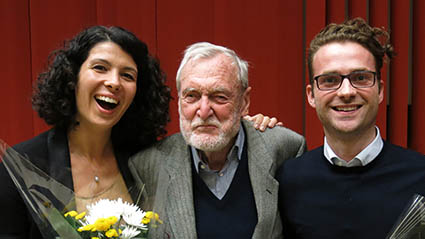 The Biaggi de Blasys Award for the best thesis in neuroscience in 2016 went to two LNDS alumni:
Dr. Sebastiano BARISELLI (right) for his thesis "SHANK3 CONTROLS MATURATION OF SOCIAL REWARD CIRCUITS IN THE VTA" defended at the University of Geneva on May 25, 2016.
Dr. Shanaz DIESSLER (left) for her thesis "TOWARDS AN UNDERSTANDING OF SLEEP REGULATION: TWO GENETIC APPROACHES IN THE MOUSE" defended at the University of Lausanne on July 15, 2016.
---
The Biaggi de Blasys award is attributed once a year to the author of the best doctoral thesis in Neuroscience defended at the Universities of Geneva or Lausanne, or the EPFL in a particular year. Each year, candidates can apply who obtained their PhD in the previous year from the following institutions:
the Lemanic Neuroscience Doctoral School (Universities of Lausanne and Geneva)
the EPFL-EDNE program (including those from non-BMI labs)
the EPFL-EDBB program (only those from BMI labs)
The prize of 5'000 CHF is awarded at the CHUV in Lausanne, on the occasion of the Brain Awareness Week.
Want to apply for next year ? details >
---