Change the way you see your life ! (SNSF Image Competition)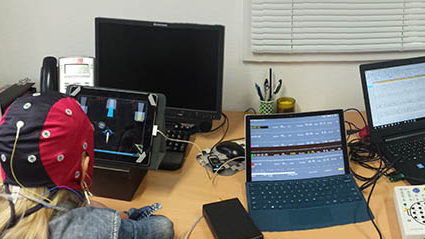 A patient with severe attention deficit is playing a video game. The goal is to pilot a space shuttle with the brain by means of an electrode placed in the parietal region. As the game progresses, the patient player is learning how to control his own cerebral rhythm through the feedback given on the screen: his alpha rhythm is correlated with the Space shuttle power and the space shuttle stops when attention is lost. The game helps to develop patient attention skills. This is a therapeutic technique known as neurofeedback which uses plastic brain properties to reduce certain mood disorders symptoms.
Photo taken by Synapsy member Roland Hasler (Prof. Aubry's lab) during a pilot experiment at the University of Geneva.
The picture was proposed to the SNSF Scientific Image Competition >
---