Making a living on two wheels and electroencephalography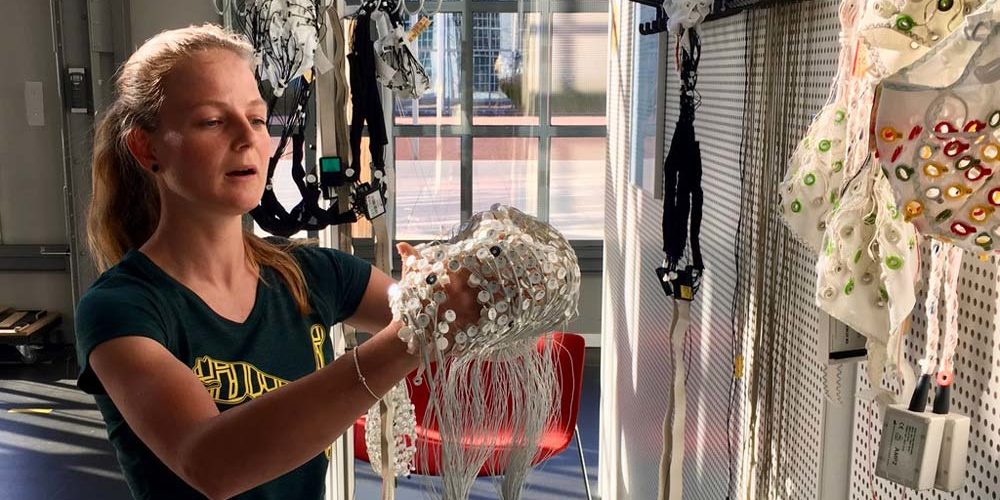 Virginie Perizzolo tells us how cycling and speech therapy helped her recently graduate from the Lemanic Neuroscience Doctoral School.
What training did you do to become a doctor in neuroscience?
First, I got a bachelor's degree in speech therapy & psychology from the University of Neuchâtel. I was more taken by the neuroscientific side of psychology and came to the University of Geneva to start a master's in neuroscience. I joined David Sander's research group during the master in Neuroscience at the University of Geneva and could learn about the EEG. Then I joined Daniel Schechter's group and started my PhD at the end of the first Synapsy phase. I could take part in the last interviews of Phase 1 WP#4 cohort and then take an active part in setting up the second clinical phase of the cohort. During my PhD, I could increase my knowledge regarding clinical aspects of trauma and anxiety disorders as well as in neuroimaging.
Now that your doctorate is in the bag, what are your career plans?
'm working as a part-time post-doctoral fellow with Daniel. We collected a significant amount of data during phases 1 & 2 and now need to analyze and publish them. I'm very grateful to have been able to stay in the same environment after finishing my PhD. A part-time postdoc fellow also allows me to share my time with my passion for sport and cycling, and to join an helvetico-russian woman professional cycling team. In 2019, I was able to ride World Cups in the USA among other international races, as well as la Vuelta Espana, which is a very famous stage race for men.
Is it possible to combine professional sport and clinical research?
I started cycling very young and always shared my time between studies, work, and cycling. I feel good in both environments, and always appreciate this balance. For example, long endurance rides often allow me to get some distance from the lab, to see things differently and get some links between scientific findings, and then I can move forward in my work.
Does sport feed into your research and vice versa?
Yes, kind of. At an organization level, planning my research work is closed to planning a race season and daily training, with short, middle and long-time goals on both sides. There is also a team spirit in both of them in recognizing everyone's skills, work together with efficiency and make the team move forward toward a goal. Finally, we could find self-reliant aspects of being autonomous in some situations, for example in decision-making to find the best solution, especially when time is running. All that makes you very disciplined, both in your private life and your work as a scientist.