Affiliated member : Nadia Micali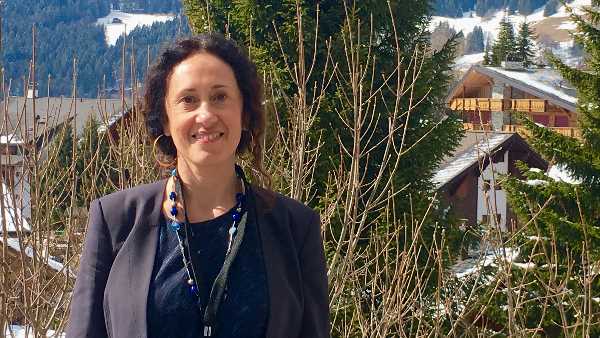 "Research isn't the icing on the cake, it's an integral part of clinical work"
---
Nadia Micali was appointed head of HUG's Child and Adolescent Psychiatry Department in late 2017, joining Synapsy in her role as a clinician-researcher immediately afterwards. Her neurodevelopmental approach to eating disorders dovetails with Synapsy's approach.
It was Nadia Micali's interest in medicine and social interactions that led her to specialize in child psychiatry. Born in Italy, Nadia studied for her degree in medicine in her home country before heading to Paris to try out clinical research in pediatrics. She subsequently packed her bags for the Institute of Psychiatry and Maudsley Hospital in London, attracted by the institutional conditions in the United Kingdom that were very favorable to the research – clinical work combination. Nadia divided her time in London between her clinical training in psychiatry, doing research one day a week for 3 years; and later a specialization in child psychiatry (40%) and her PhD studies (60%) for five years. She spent a few more years in the British capital for a prestigious postdoctoral fellowship at University College London, before crossing the Atlantic to work in New York as an Associate professor in psychiatry and co-director of the Eating Disorders Program at Mount Sinai Hospital. In 2017, Nadia was appointed full professor in the Psychiatry Department in UNIGE's Faculty of Medicine and head of HUG's Child and Adolescent Psychiatry division. She joined Synapsy as an affiliated member six months later. She has just set up a clinical team to assess and treat children and adolescent with feeding and eating disorders at the HUG.
Early action
Micali's research focuses on the biological and inter-generational risks associated with eating disorders, together with the epidemiology of these disorders in adolescents and their neurobiological risk factors. Her goal is to develop treatments to help patients and their families. She is particularly interested in child psychiatry since she shares Synapsy's vision of psychiatric illnesses: "If we want to change pathological behavior, we have to change it early during brain development".
Virtuous circle
Nadia has split her entire career between research and clinical work. Based on the expertise she has acquired, she says: "Research impacts on our actions with patients and that's important. Likewise, our clinical work is useful to researchers. It's a positive feedback loop where research ideas are often generated by interactions with patients."
During Nadia's stint at University College London she also helped set up a master's degree in eating disorders. This degree is unique in that it offers a mix of neurobiology and clinical skills, with a scientific approach to psychiatry that is comparable to Synapsy's. Micali argues that psychiatry trainees should be exposed to research as early as possible in their studies to facilitate their transition. "Personally, I did my psychiatric training in an institution where everyone was involved in research. All the internships and courses included at least one day of research. It was very beneficial for my career because research is not the icing on the cake –it's an integral part of clinical work."
Learning from the network
Nadia is a newcomer to the world of Geneva-based neuroscience and psychiatry. She plans first to learn about what is happening in the local community by creating a network, which will serve to fuel her own research, with Synapsy certainly making a large contribution. "Synapsy is a timely opportunity to find out what's going on here. I'm amazed at the amount of work carried out by Synapsy's researchers and clinicians," she says.
---
Author : Yann Bernardinelli, les Mots de la Science
---