Dominique Muller leaves behind an indelible imprint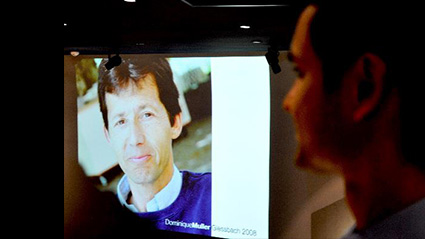 Remembering Dominique Muller
Dominique Muller, the former Synapsy co-director who passed away three years ago, was commemorated in a one-day conference on April 19, when the lecture theater at the Louis Jeantet Foundation played host to family members, old colleagues and a number of scientists.
The microscopist Irina Nikonenko, a long-standing member of the laboratory of the late Dominique Muller, strongly supported the project of a commemorative day conference, which was organized by several professors from the Department of Basic Neuroscience at the University of Geneva, including Prof. Kiss, Prof. Holmaat and Prof. Lüscher. In choosing the title From Synaptic Structure to Neuronal Dysfunction, the organizers hoped to attract international speakers to discuss scientific themes that were dear to Dominique Muller. "We wanted to remember him in an informal way," explained Muller's friend and former colleague Jozsef Kiss in his introduction to the conference.
The air crackled with emotion as participants arrived at the conference : for some members of Dominique's laboratory, it was one the first time they had met since tragedy struck three years ago. But it was also an opportunity to share memories of the golden period they enjoyed together under the aura of their late mentor.
Muller's erstwhile colleagues queued up throughout the day to attest to the success of his career and his scientific discoveries. They also mentioned his obliging nature; his lifestyle, so idiosyncratic on occasion when it came to eating and driving; and, of course, the huge legacy Dominique bequeathed to the neuroscience community, both locally and on the international stage. These first-hand accounts and anecdotes were interspersed with exclusively scientific presentations, whose rich content would doubtless have fascinated Synapsy's former co-Director.
"The day was a great success," said Jozsef Kiss, still overcome with emotion. "Dominique's family was delighted and very grateful to all the researchers who made the journey in memory of their dad and husband." There is no doubt that Muller changed the physiology and structure of the synapses of anyone who took the same road –and far into the future, too.
---
Author : Yann Bernardinelli
---