A publication by Dominik Moser rewarded during the French Psychiatry Congress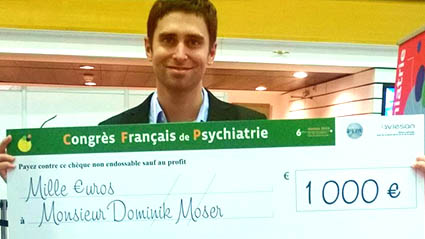 During the French Psychiatry Congress; a prize goes to Dominik Moser, Ph. D student in Prof Daniel Schechter's lab, for his work leading to an article published in Stress.
On the 26th November, Dominik Moser flew to Nantes where he found himself face to face with top French psychiatry. He was invited by the French Psychiatry Congress to receive the third prize for the best publication in Psychiatry. The annual prize rewards outstanding research in Psychiatry from French-speaking countries.
Dominik Moser is a PhD student in Prof Daniel Schechter's group at the Geneva Neuroscience Center, University of Geneva and was distinguished for his article published in Stress in 2013. The group used functional magnetic resonance imaging to show that mothers who experienced trauma and suffer from severe dissociative symptoms exhibit lower limbic system activation than mothers with less severe dissociative symptoms. The results are in agreement with observations that mothers with dissociative disorder respond less well to their young child's signals.
What's more, Dominik Moser will be defending his thesis entitled "Socio-emotional processing in mothers with and without interpersonal violence related post traumatic stress disorder" on January 20, 2014 at 4pm in Geneva – Uni Mail.
Author : Anne-Muriel Brouet, EPFL
---
Reference :
Moser DA, Aue T, Wang Z, Rusconi Serpa S, Favez N, Peterson BS, Schechter DS;
Limbic brain responses in mothers with post-traumatic stress disorder and comorbid dissociation to video clips of their children.
Stress 16(5):493-502, Sept 2013. doi:10.3109/10253890.2013.816280 >
---