Jan Cabungcal awarded by SSBP Young Investigator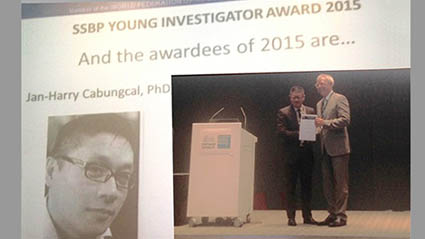 The Young Investigator Award 2015 of the Swiss Society of Biological Psychiatry has been awarded to Jan Cabungcal.
Dr. Jan Cabungcal, member of Prof. Kim Do team has been rewarded by the SSBP Young Investigator Award 2015. He received the price at the Campus Biotech in Geneva last August 28th. In order to support and promote the research of young scientists in the field of biological psychiatry in Switzerland, the Swiss Society of Biological Psychiatry (SSBP) awards CHF 5,000 every year to the best original scientific contribution to the advancement of the treatment and understanding of biological backgrounds of mental disorders.
The price was given to Prof. Johannes Gräff in 2014 and to Micah Murray in 2011.
---