Pierre J. Magistretti : A life-long passion for neuroscience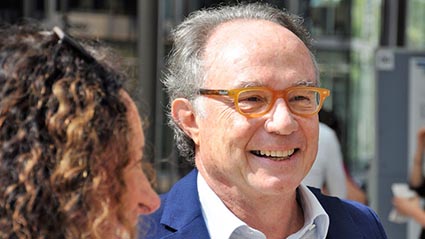 Professor Magistretti has devoted his career to studying the interactions between neurons and glial cells, psychiatry and developing neuroscience at home and abroad – and he looks set to continue to do so!
A one-day symposium was held in honor of Pierre Magistretti on October 23, 2017 to mark his retirement from EPFL. The professor's impressive career and legacy – both scientific and institutional – was reviewed during the event, with former members of his laboratory in attendance alongside leading scientists in the fields of neuron-glia interaction, cerebral energy metabolism and synaptic plasticity. Attendees took turns to highlight the importance of Pierre's thirty-five years of research on the metabolic coupling between neurons and astrocytes. The event was further enlivened by a series of heartfelt testimonials and stories about life in and around the lab, painting a portrait of a man full of humor, humanity, passion… and future projects.
Taking a look in the rear-view mirror
Pierre Magistretti later told us that he had been afraid that this special day would mark the end of an era and would be tinged with too much nostalgia. "There was definitely a feeling of sadness and a bit of nostalgia but there were also so many pleasing stories and testimonials of friendship that it ended up being an excellent day, full of positive emotions." A string of first-rate lectures was given by individuals who had collaborated with and taken part in Magistretti's research or been inspired by his work. In addition, the symposium gave Pierre the chance to look back over these thirty or so years of research from a different angle: "What strikes me and makes me proud is seeing that a real "story" has been built up year after year and result after result. It was not about a particular phase or a discovery but all these years of research rolled into one day." Magistretti admits that he took special delight in discovering previously unknown mechanisms: "That's the thrill of research: recognizing that thirty years ago, the concepts we have described were still unknown." Pierre is a true research pioneer in interactions between neurons and glial cells. His work has shown not just that astrocytes (a type of glial cell) are crucial elements for maintaining neuronal integrity but that their function also includes participating in plasticity mechanisms.
Pre-thought mechanisms
However, Pierre Magistretti's career has encompassed much more than his fundamental work on neuron-glia interactions. He started off studying Latin, Greek and philosophy before being drawn towards science. Pierre's fascination with the human mind and thought subsequently led him to biology: "I said to myself that biology must lie behind the thinking that produced all those poetic and philosophical masterpieces already 2500 years ago, because only biology could ensure this continuity and journey across cultures and time". This was the genesis for Magistretti's desire to understand the human brain: psychiatry was the logical choice, never losing sight of the fact that knowing how the brain functions is crucial to the discipline. In fact, it was to meet this need for fundamental knowledge that Magistretti embarked on a neuroscience doctorate at the University California at San Diego: here he tackled the issue of energy metabolism linked to glia for the first time by studying glycogenolysis – a topic he pursued throughout his career as a researcher. At the same time, Pierre kept up his interest in psychiatry and the human mind, publishing psychoanalytical works with François Ansermet and creating the NCCR-SYNAPSY. "I'm really happy that I had a background in human science, psychology, psychiatry and psychoanalysis but what satisfies me most is the fundamental and scientific part," explains the professor.
Promoting neuroscience
After fifteen years focusing heavily on research, Magistretti became increasingly involved in neuroscience initiatives in Switzerland and on the international stage. He played a leading and unifying role in building the EPFL Brain and Mind Institute (BMI), the Federation of European Neuroscience Societies (FENS), the Centre for Psychiatric Neuroscience (CNP) at the University of Lausanne, the Biomedical Imaging Centre (CIBM), the Lémanique Doctoral School of Neuroscience, and more recently the Faculty of Biology and Environmental Sciences at KAUST University in Saudi Arabia.
Brimming with projects and plans
Although Pierre is retiring from EPFL (where he will now serve as an emeritus professor), he will carry on with his research work at CNP and will be active at KAUST as a researcher and dean. He will also continue his involvement in developing the start-up GliaPharm and his projects on the role of lactate in mood disorders at Synapsy. In short, Pierre is still involved in a wide range of research projects, and his enthusiasm for neuroscience is intact. A fourth decade of research on his favorite topic – the role of astrocyte lactate – is under way: "Now we're going to explore in detail the molecular mechanisms by which lactate modulates gene expression in neurons, which results in neuroprotection and takes part in neuronal plasticity".
Author : Yann Bernardinelli
---
PRESS COVERAGE
Live interview with Professor Pierre Magistretti's speech during the conference, hosted by EPFL, given in honor of his three decades plus of research on brain energy metabolism. KAUST live – video
Honorary Professor at UNIL >
---