Carmen Sandi appointed President of FENS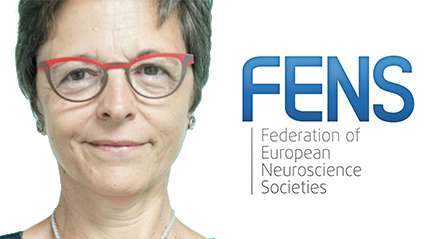 The Federation of European Neuroscience Societies has appointed EPFL Professor Carmen Sandi as its President.
FENS has appointed EPFL Professor Carmen Sandi as its new President. Professor Sandi directs the Laboratory of Behavioral Genetics at EPFL's Brain Mind Institute. Her research focuses on three main areas:
The neurobiological mechanisms involved in the formation of social hierarchies and their modulation by stress and anxiety.
The mechanisms through which early-life stress promotes the risk of psychopathologies, with a main focus on the emergence of pathological aggression.
The mechanisms linking altered neuroplasticity during development and pathological aggression.
To pursue these research objectives, Professor Sandi's lab combines behavioral, neurobiological, neuroimaging, neurochemical, pharmacological, metabolic, genetic, and optogenetic methods. In addition, they also carry out translational studies in humans using virtual reality, behavioral economics, experimental psychology and neuroimaging approaches.
"I am thrilled to have the opportunity to shape neuroscientific European research, education, outreach and policy together with European Neuroscience Societies and its members," says Carmen Sandi. "It is an exceptional moment to preside over FENS – neuroscience research is currently thriving, as evidenced by the 11th FENS biennial Forum that just took place in Berlin recently."
Professor Sandi's statement on the FENS website >
Author : Nik Papageorgiou, EPFL-News >

---
The Federation of European Neuroscience Societies (FENS) was founded in 1998, and is now the main organization for neuroscience in Europe. FENS currently represents 43 European national and single-discipline neuroscience societies and counts almost 23,000 members from 33 European countries.
The mission of FENS is to "advance research and education in neuroscience within and outside Europe," and "to facilitate interaction and coordination between its members." As such, FENS promotes excellence in neuroscience research and facilitates the exchange and networking between neuroscientists within the European Research Area and beyond.
---