Fondation Leenaards Scientific Prizes 2018 to Synapsy's Members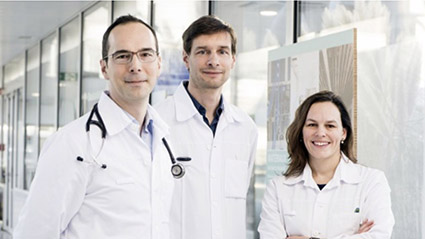 Arnaud Merglen, Paul Klauser and Camille Piguet
The Leenaards Foundation awarded this year two awards for translational medical research projects to groups of researchers from the Lake Geneva region.
The first award-winning project aims to observe the effects of mindfulness meditation on brain activity and brain structure in adolescents, with a focus on improving overall mental health. Indeed, more than a third of young adults in Switzerland suffer from depressive symptoms in a broad sense, according to a report by the Swiss Observatory of Health. "Adolescence is a period of great emotional reactivity during which psychic health is particularly fragile: zones of regulation of stress and emotions are indeed in the process of reshuffling", says Dr. Camille Piguet, of the Faculty of Medicine of UNIGE, who leads this research alongside Dr. Paul Klauser (CHUV-UNIL) and Dr. Arnaud Merglen, pediatrician at the Faculty of Medicine of UNIGE and HUG.
Leenaards Foundation Scientific Prize A >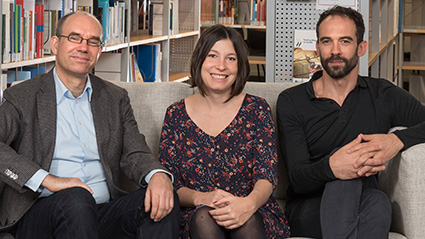 The second award-winning project aims to define the impact of social-economic factors in a lifetime on cognitive aging of the brain. This project is led by Dr. Silvia Stringhini (IUMSP / CHUV / UNIL), with Prof. Dr. Bogdan Draganski (CHUV) and Prof. Professor Matthias Kliegel of the Faculty of Psychology and Education Sciences at UNIGE.
Leenaards Foundation Scientific Prize B >
The ceremony of the Leenaards 2018 Science Prizes will take place on Wednesday 21st March at the CHUV (Audience César-Roux), at 17h00. Event open to all on registration.
Author : UNIGE, Communication
Translation: Tania Secalin
---
Press coverage :
Le Temps : Avec la méditation, l'adolescence en pleine conscience (FR) >
TdG FR (pdf) >
Der Bund DE (pdf) >
---