Winners of the Pfizer Prize for Research 2017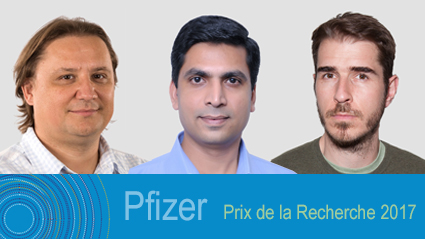 Alan Carleton, Nixon Abraham, Olivier Gschwend
Pfizer Award 2017 – 25 young Swiss researchers were awarded for their outstanding scientific work, including three teams from the HUG and UNIGE. These are two joint HUG/UNIGE teams in clinical research and a UNIGE core research team.
Alan Carleton, Nixon Abraham and Olivier Gschwend are the happy beneficiaries of the 2017 Pfizer award in Neuroscience and Nervous System Illnesses. The three researchers are rewarded for their outstanding work entitled "Neuronal pattern separation in the olfactory bulb improves odor discrimination learning" and published in Nature Neurosciences.
The Pfizer Prize for Research, one of the most prestigious prizes in medicine in Switzerland, has been awarded annually since 1992 by the Pfizer Research Foundation, on the basis of independent scientific commissions.
---
Press coverage :
Tribune de Genève
Pfizer, archives
UNIGE (FR)
---