PAST EVENTS 2011

This page is under work.
Thank you for your patience!
---
16-18 May Teaching module organized by LREN the imaging platform in Lausanne Approx. 30 participants http://unil.ch/lren  
---
ESPACE DES INVENTIONS
As part of the public outreach, the NCCR has initiated a partnership with the "Espace des Inventions", a small museum for the public age 7 onwards, in Lausanne. They feature an exhibit called "Les doigts dans le cerveau" which will last until summer 2012 and the collaboration with the NCCR is called "La Permanence du Cerveau". The idea is to have several Sunday afternoons with scientists, active in the NCCR, presenting what is done in their labs with some hands-on experiments, videos, and especially discussions between the scientists and the public (families with children). We propose 4 themes from 4 research groups: Learning, memory, multi sensorial perception, as well as the perception of the "self".
---
JOURNEES DE LA SCHIZOPHRENIE
With the collaboration of Philippe Conus, member of the NCCR, and the patient organization "l'ILOT", an action has been taken on the occasion of the "Journées de la Schizophrénie". L'ILOT had an information stand on schizophrenia at the Rolex Learning Center, EPFL, which encountered a great success. Indeed a large number of the Campus's students asked for more information about this disease.
---
BRAIN TEAM
A further goal is now to bring together and motivate the younger generation of PhD students, post-docs and other young scientists and to have them spend some of their time to participate in programs for schools. This project should involve young neuroscientists from all over Europe. This initiative has been started shortly by the European Dana Alliance for the Brain and FENS and the idea is to give some incentive to the interested students by organizing an event at the FENS Forum and giving also travel grants. This is done in partnership with the European Doctoral schools . This would also help to recognize in a CV that public outreach is important, as it would be publicized and we should get more and more young people involved as they see their classmates being recognized doing that kind educational activity.  
---
MATH WORKSHOPS "Maths en Jeu"
4 sessions of 12 weeks per year (1 hour/week) for young boys and girls. (2011: until June 47 participants) Girls and boys start off equal in mathematics performance and interest in school, but girls are less confident about their capacities. This discourages young girls to choose scientific fields later for their university studies. This course encourages young girls to go further in mathematics and scientific fields. The main purpose of this course is to discover mathematics from a common sense point of view. The subject is not presented as a hindrance but as a useful tool for a future scientific career.  
---
POLYTHEME WORKSHOPS
3 Wednesdays afternoons organized for young girls aged between 7 and 10 years old. First of all the basis of neuroscience was discussed. Children discovered the different functions of the brain through the five senses and finally the more complex functions such as memory, intelligence and emotions were studied. Simple experiments adapted to the age of participants were developed in order to let them discover, for example why it's difficult to dissociate some of our movements, which part of our brain is responsible for emotions, etc. The goal of these workshops were to teach how to tackle a scientific problem and how to learn scientific concepts by experimentation. Children discover how interesting and amazing sciences are and how useful they are for society.  
---
SCIENTIFIC CAMP "Je m'amuse avec les sciences"
This science camps are based on experimental investigation of science by young girls aged between 7 and 10 years old. In parallel to the hands-on experiments, the participants met members of the EPFL scientific staff who prepared dedicated events for this occasion.  
---
SCIENTIFIC CAMP "Remue-méninges à Robotcity"
The content of this new program has been developed for young girls between thae age of 11 and 13. The week is dedicated to the brain and robotics is organized in parternship with the EPFL Office of the Equal Opportunities.  
---
ANNUAL RETREAT
April 1/2 Villars See our dedicated page > The program included three main topics of the NCCR (by C. Sandi, S. Antonarakis, M. Preisig and R. Frackowiak), each framed by additional presentations of the project leaders. Pierre Marquet and Alexandre Dayer, who have already completed a dual clinician/scientist program, presented their work on this occasion, as well as the two recipients of the NCCR SYNAPSY clinician/scientist fellowship, Marie Schaer and Philippe Baumann. The program also included a keynote lecture by renowned neuroscientist René Hen, member of the advisory board, on "Hippocampal neurogenesis: Impact on Mood and cognition". A half-day workshop to sensitize NCCR participants to patent issues took place the 2nd day. A representative of the Intellectual Property Office in Bern, Dr Heinz Müller, gave an overview on "Patent Issues in Scientific Discoveries and Beyond" talk and the Head of the Technology Transfer Office at EPFL, Gabriel Clerc, gave a talk entitled: "Your Partner for IP on Technology Transfer matters!" during a dedicated workshop. At the end of the first day, PhD students presented their posters, followed by social interactions. Best poster prices have been awarded on the second day. The meeting has been a large success based on reports from participants and let NCCR members to get to know each other better. The retreat program is attached. (see appendix 2)  
---
MENTORING AND CAREER PLANNING
Events organized to stimulate female undergraduates, PhD students and Postdocs to consider an academic or industrial career. February 2011 StartingDoc, Opening day and round table (a collaboration of universities and EPFL) March 2011 Erna Hamburger Conference, Ada Yonath the Nobel Prizewinner Chemistry 2009 400 participants March 2011 Lunch Ada Yonath with PhD students and Postdocs 35 participants March 2011 Closing event of the Firmenich mentoring program with participation of Prof. Kim Do, SYNAPSY 15 participants March 2011 Industry presentation (special evening): Accenture 10 participants –limited group size March 2011 Celebration of International Women's Day on EPFL campus n.a. May 2011 Visit of Nespresso Nestlé 20 participants limited group size June 2011 Lunch discussion with Dr. Marcel Goldschmid, Professor and coach  
---
DEVELOPMENT AND PLASTICITY OF THALAMOCORTICAL SYSTEMS
Jan 31 to Feb. 3 Grand Hotel Kurhaus Arolla, Switzerland 60 participants took part in this 4-day meeting. Countries of origin were Switzerland, Spain, France, UK, United States, and Japan. There were a total of 30 speakers, including 2 keynote speakers and 11 short talks. Discussions and presentations were organized along 4 main topics: (1) Molecular Mechanisms of Thalamocortical Circuit Formation, (2) Thalamocortical pathfinding, (3) Interaction with Cortex & Evolutionary Perspectives, (4) Activity & Plasticity. Presentations were followed by fruitful discussions and social interactions, allowing several collaborative projects to emerge. The meeting has been a large success based on reports from participants and initiation of collaborations between meeting participants. A special issue of European Journal of Neuroscience (submission deadline 11/2011) will be devoted to the topics of this meeting.
---
SYMPOSIUM ON STRESS, BRAIN AND BEHAVIOR (SSBB)
March 14/15 Organized by a project leader of the NCCR, Carmen Sandi. Stress has a major impact on brain function and behavior and is a key risk factor for psychopathology. Recent findings underscore cognition and social behavior as particularly susceptible to stress. A key question is to understand how these processes can affect vulnerability to psychopathology and which mechanisms mediate the long-term consequences of stress on behavior. The goal of this Symposium was to address these questions by bringing together leading scientists working, from different angles and approaches, on Stress, the Social Brain and Psychopathology. Work in both humans and animal models will be presented, and emphasis will be placed on discussions and interactions. There were a total of 14 speakers. The SSBB 2011 program is attached.  
Its tour covers the French and German regions of Switzerland.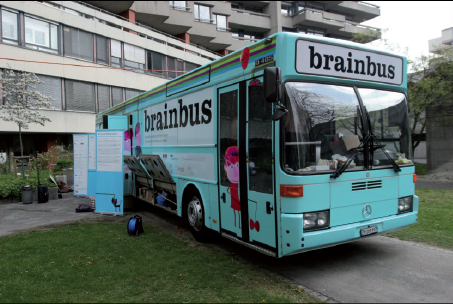 The Brain Bus is a traveling exhibit about the brain and its functions.
See the 1'50" VIDEO presentation (French) >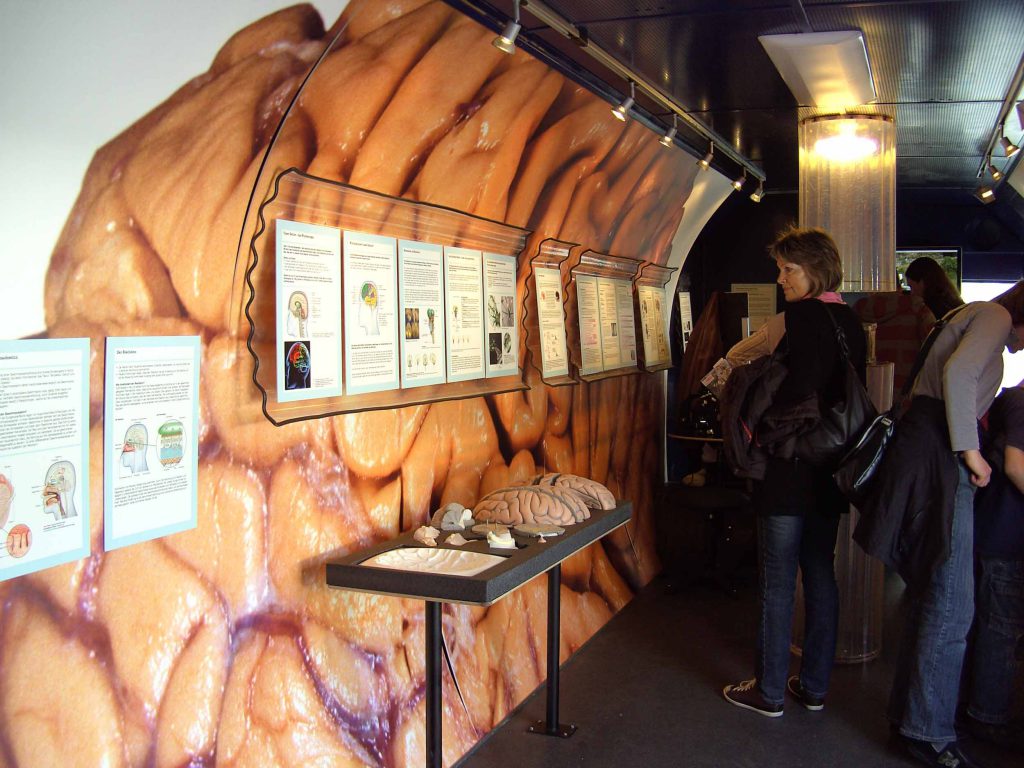 The bus is equipped with multimedia presentations, films, models, experiences, video games and quizzes, explaining how the brain works.