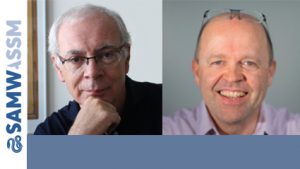 The Theodore Ott Award 2017 will be granted to two researchers for their remarkable works in neurosciences : Prof. Christian Lüscher from the Geneva university and Prof. Andrea Volterra from the Lausanne university
Christian Lüscher studies the alterations of the cerebral circuits caused by drugs and develops different approaches to normalize them.
Andrea Volterra Explores the central role, long ignored, of astrocytes on synaptic transmission.
Both scientists are recognized internationally for the importance of their work.
Tribune de Genève  •  Le Matin  •  UNIGE  •  AGEFI  •  SAMW
---
The Prize, usually awarded every five years by the ASSM, goes back to doctor Theodore Ott (1909 – 1991), Professor of Neurology, Lausanne. In accordance with the wishes of the donor, the Award is given to established researchers who have accomplished outstanding work in basic neuroscience research.
The Prize is awarded CHF 50'000.- for a single prize winner or twice 30'000.- if two prize winners are awarded at the same time.